We're back!
We are delighted to announce that we are now proudly starting our acoustic and folk music evenings once more.
Keep an eye on our "What's On" page and our Social Media to see the great acts we have coming up.
The Kalamazoo Klub has been bringing great quality folk and acoustic music to North London for the last 25 years. Run by Guy Simpson and Paul Alcantara, it has brought a plethora of World-class names to our audiences over those years.
Fronted by House Band, The Blinkin' Buzzards, each month's meeting brings a top-name artist from the worlds of folk and acoustic music. It is now one of the best-known folk music clubs in London.
Listen to The Blinkin' Buzzards playing Autumn Leaves, live.
We meet usually on the second Friday of the month at The Great Northern Railway Tavern in Hornsey and sometimes at the Union Chapel in Islington. Make sure you check the What's On page to see which venue we are using and for more details on how to buy tickets.
Now you can buy The Blinkin' Buzzards' CD, packed with great tunes like Jigsaw Puzzle Blues, Blue Prelude, Humming Blues and Big Feet Rag.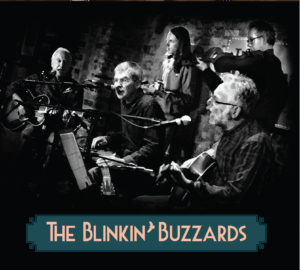 The CD contains 11 tracks plus a bonus track, Pizza Rider, by Merlin Wildman. The CD costs £12 plus £2 p&p. Order yours today!
The Blinkin' Buzzards
The Kalamazoo Klub's house band play each month at the Klub and are:
Guy Simpson – Dobro
Paul Alcantara – Guitar, ukulele, banjo
John Paxton – guitar
Andrew Kemp – bass
Jamie Alcantara – ukulele
Listen to Mr. Trump Don't Like It by the Blinkin' Buzzards
Listen to Jigsaw Puzzle Blues
By Eddie Lang, born Salvatore Massaro in Philadelphia in 1902.