On this page we will bring you details of which artists we have booked for 2017
Please note that for gigs at The King's Head; this is a pub room and not entirely seated. If you need a seat, we advise you get there early. Refunds will not be given.
Buy a copy of The Blinkin' Buzzards' new CD featuring 12 tracks!
"The best house band in the country" Wizz Jones.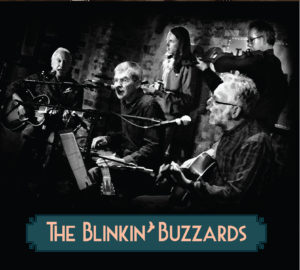 Friday November 10
Robin Williamson
Supported by House Band The Blinkin' Buzzards
8.00 pm £20
Robin Williamson would surely have a place in any folk music hall of fame.
Few performers have had such influence as this man – and fewer still remain at the top of their game after 50 fabulous years.
He's also an important part of our history – when he  first played for us nearly a quarter of a century ago, he drew a crowd  that stands as a record for the Kalamazoo.
Watch Robin playing Dark Woman of the Glen
As founder of the  ground-breaking Incredible String Band, with its mystic mix of folk, jazz and Eastern sounds, he fired the imagination of many a musician.  Robert Plant and Paul McCartney cite the twice Grammy-nominated Williamson as an influence.
This legendary singer-songwriter, multi-instrumentalist and story-teller is also a brilliant exponent of the Celtic harp – restoring it,  as he says, to its ancient role as "spontaneous accompaniment to the spoken word."
On it you may hear traditional Celtic songs thought lost in the mists of time. Or a Pink Floyd cover.  Or even a re-working of a Jerry Lee Lewis country classic.
That's Robin for you. A true original. And, as a BBC reviewer said:"They don't make them like him any more."
Friday December 8
The Blinkin' Buzzards
plus special guests
Ben Tyzack and Guy Tortora
8:00 pm £10
The Kalamazoo Klub picks the blues for Christmas – and what a class act we have as our guests tonight.
House band The Blinkin' Buzzards, as well as playing their popular hits from the 1930s and 1940s also play host to two of the finest bluesmen around.
Ben Tyzack and Guy Tortora
have been cooking up some real tasty stuff in the blues clubs ever since they got together three years ago.
They have spent most of the last two decades with their own much-admired bands – Ben with
The Spikedrivers
and his compadré with the
Guy Tortora Band
A blues promoter persuaded them to team up as a double act in 2014 – with spectacular results. "Spellbinding" was how the Blues in Britain critic put it.  "Shivers up your spine! They deliver on every level."
Their credentials are impeccable.  Both have been playing since they were kids.
London-born Tyzack grew up in the American South to the sound of rock, blues and Southern boogie. Tortora, from Pasadena, had much the same upbringing and comes steeped in blues, jazz, folk and roots.   They are, as one reviewer said, a perfect harmonious match, picking out their well-crafted, self-penned songs or re-working classics from the likes of Blind Blake and Robert Johnson.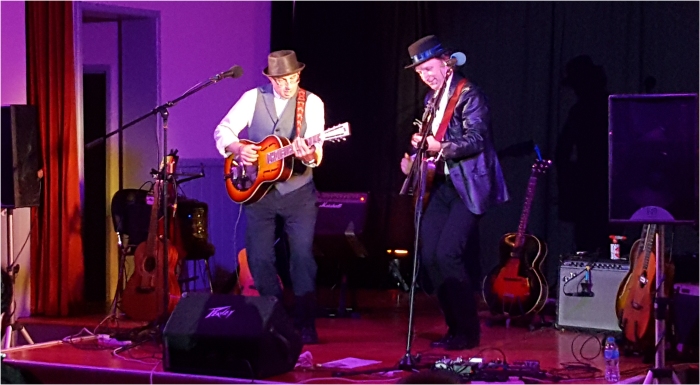 As for The Blinkin' Buzzards, the "best house band in the country" (Wizz Jones) will be delving back into their store of country blues, old
time tunes and glorious 1930s pop songs.
There's no better place to be than the Kalamazoo Klub at Christmas.
Watch Ben Tyzack and Guy Tortora play Police Dog Blues