On this page we will bring you details of which artists we have booked for 2017
Please note that for gigs at The King's Head; this is a pub room and not entirely seated. If you need a seat, we advise you get there early. Refunds will not be given.
Buy a copy of The Blinkin' Buzzards' new CD featuring 12 tracks!
"The best house band in the country" Wizz Jones.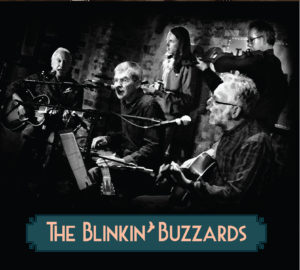 Friday December 8
The Blinkin' Buzzards
plus special guests
Ben Tyzack and Guy Tortora
8:00 pm £10
The Kalamazoo Klub picks the blues for Christmas – and what a class act we have as our guests tonight.
House band The Blinkin' Buzzards, as well as playing their popular hits from the 1930s and 1940s also play host to two of the finest bluesmen around.
Ben Tyzack and Guy Tortora
have been cooking up some real tasty stuff in the blues clubs ever since they got together three years ago.
They have spent most of the last two decades with their own much-admired bands – Ben with
The Spikedrivers
and his compadré with the
Guy Tortora Band
A blues promoter persuaded them to team up as a double act in 2014 – with spectacular results. "Spellbinding" was how the Blues in Britain critic put it.  "Shivers up your spine! They deliver on every level."
Their credentials are impeccable.  Both have been playing since they were kids.
London-born Tyzack grew up in the American South to the sound of rock, blues and Southern boogie. Tortora, from Pasadena, had much the same upbringing and comes steeped in blues, jazz, folk and roots.   They are, as one reviewer said, a perfect harmonious match, picking out their well-crafted, self-penned songs or re-working classics from the likes of Blind Blake and Robert Johnson.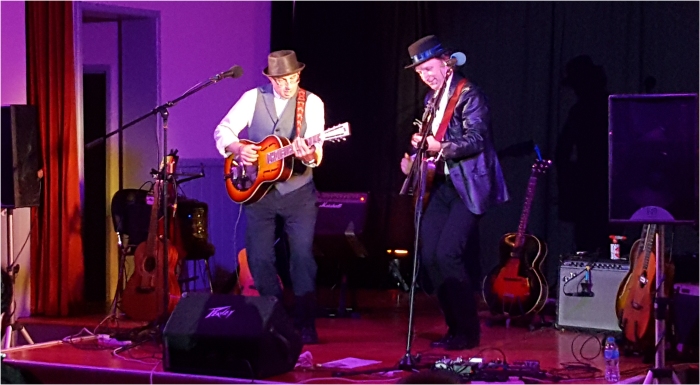 As for The Blinkin' Buzzards, the "best house band in the country" (Wizz Jones) will be delving back into their store of country blues, old
time tunes and glorious 1930s pop songs.
There's no better place to be than the Kalamazoo Klub at Christmas.
Watch Ben Tyzack and Guy Tortora play Police Dog Blues
Friday January 12
Dai and the Ramblers
Supported by The Blinkin' Buzzards
8:00 pm £10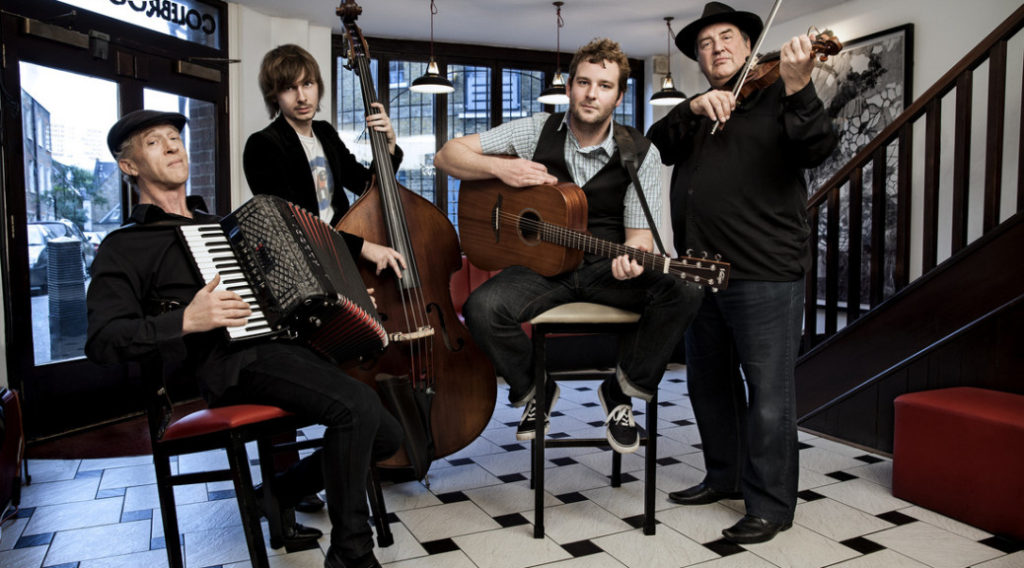 Drop everything for this!
Dai and the boys are back to get 2018 off to a roof-raising, foot-stomping start.
The Ramblers had the Kalamazoo rocking last January  and return on a wave of rave reviews  for a "sublime" new album featuring their glorious mix of zydeco, rockabilly and rhythm and blues.
The superlatives pile up.  "Quite simply, they ooze class," said the New Roots critic. "Brilliant musicians, brilliant songs, brilliantly played."
Dai Price, guitarist, dulcet-toned singer and songwriter, has assembled quite a band: accordion maestro Alan Dunn has been sideman for Loudon Wainwright III and Richard Thompson; fiddle player Bob Loveday has worked with Van Morrison and Jeff Beck, while  the ensemble is anchored by ace slap-bass man Rupert Gillett.
It is, as New Roots puts it, "a masterful combination."
Ace Records boss Ted Carroll, who got them into the studio for their first album  a while back, is effusive. "One of the best bands I've ever seen," he says. "And in 50-plus years I've  seen them all.  Just about as good as it gets."
Friday  February 9:  to be confirmed
Friday  March 9 :  The Gypsy Dreamers
Captivating Django jazz meets classical, chanson and pop   £10
Friday April 13: Wizz Jones
Folk blues great £15
Friday  May 11: Hans Theessink and Brooks Williams
Acclaimed blues masters £15
Friday June  8: Tim Eriksen
Brilliant US multi-instrumentalist reworking  Appalachian tradition £15
Friday  July 13:  Martin Carthy
One and only "father" of English folk £20
Friday August 10: Blinkin' Buzzards
The Kalamazoo's house band, with special guests £10