The King's Head, Crouch End

2 Crouch End Hill, London N8 8AA
Most of our gigs are in the Downstairs at the King's Head venue.
To get here:
Finsbury Park Tube or Overground Station (Victoria and Piccadilly Line) then W7 bus to Crouch End Broadway
Hornsey Train Station then 41 bus
The Union Chapel
Compton Ave, Islington, London N1 2XD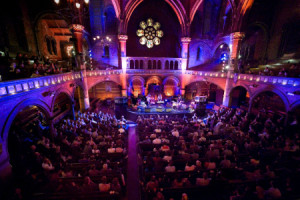 The Union Chapel is an architectural treasure that's home to a church, an award winning venue, a unique organ and a centre for those homeless and in crisis in London. The building itself was saved from demolition in the 1980's thanks to the campaigning of local residents who went on to become Friends of Union Chapel.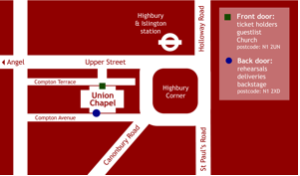 The Union Chapel Project was formed as a charity to restore & develop the building and to open the space up to a diverse group of people. The Chapel is now Grade 1 listed and welcomes thousands of visitors a year.
The Union Chapel's website is http://www.unionchapel.org.uk/